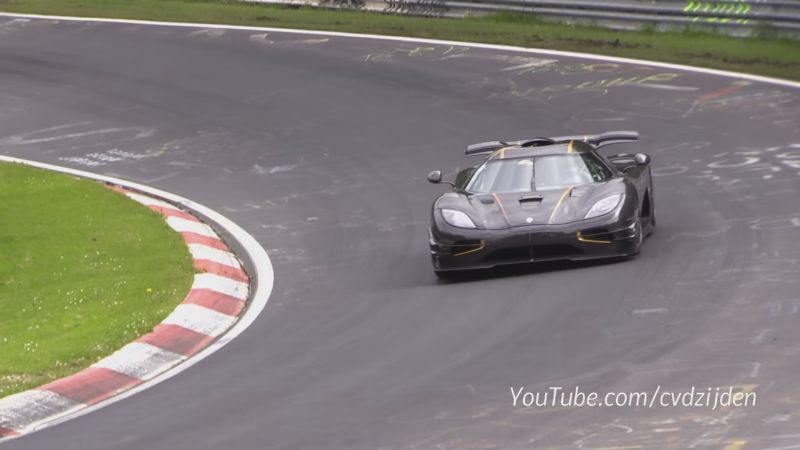 Is Koenigsegg preparing to break the lap record for a production vehicle on the Nurburgring with the Koenigsegg One:1?
The Koenigsegg One:1 was caught once again on the Nurburgring Nordschleife in all its glory. It was spotted the first time over a month ago.
In the latest video from Cvdzijden, the vehicle appears to be the same one caught about two months ago. It is called the one:1 because of the power to weight ratio of one to one. There is one kilogram of weight for every one horsepower produced. As a result, of the attainment of this milestone, it is often called the first 'megacar'.
The sightings of a One:1 lapping the Nurburgring have led observers to conclude that Koenigsegg is preparing for a run to break the record for the fastest production vehicle. The current record holder is Porsche with the Porsche 918 Spyder with six minutes and 57 seconds.
It is possible that Koenigsegg could try to take it even beyond the fastest production vehicle at the Nurburgring and challenge the Radical SR8's 6 minutes and 55 seconds or the SR8 LM's 6 minutes and 48 seconds. Since the Nurburgring only lifted speed limits this past April, the One:1 really hasn't had a chance to prove itself so far.
This is not the only speed record that the Koenigsegg has broken. It recently set a top speed record at VMax200 with 378 km/h or 275 miles per hour. It also set a record on Belgium's Spa Francorchamps, with a lap record of 2:32:14.
The engine powering the Koenigsegg One:1 is powered by a 5.0-liter V8 engine which develops 1,341 horsepower when it is running on E85 fuel.