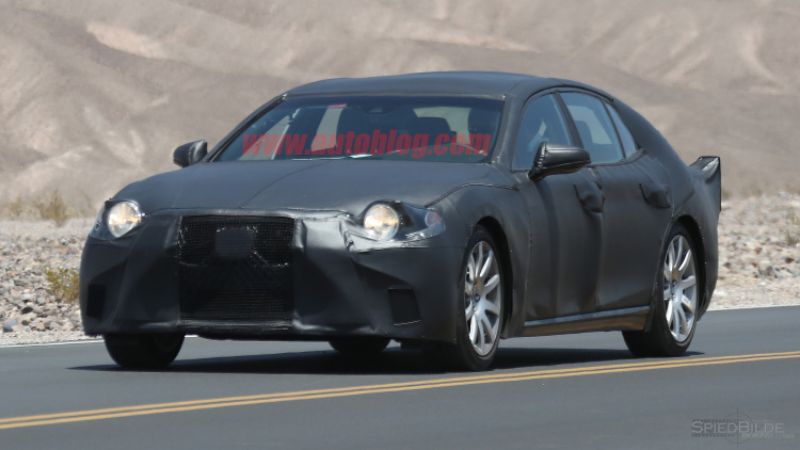 Spy photos will be increasing in the coming months, testing is underway of the next-generation Lexus LS
Since Lexus updated their trademark design language, just about all of the vehicles in the line up have been updated to reflect their new direction in design. One vehicle that has not been updated in some time is the Lexus flagship LS.
Spyphotos are starting to emerge of the upcoming next-generation Lexus LS. The most recent emerged just a few days ago under heavy camouflage. However, there appears to be enough information and renderings available in the public domain that give us a good idea of what the vehicle is going to look like.
The concept vehicle for the upcoming Lexus LS was the Lexus LF-FC concept vehicle unveiled at the 2015 Tokyo Motor Show. The LF-FC concept carried over the Lexus spindle grille along with a very 'sharp' front end and back end. It also features bulging muscular fenders that are especially prominent over the front wheels. The rocker panels are also stand out as does the greenhouse area or the windows.
Lexus has a history of taking their concept vehicles and putting many, if not most of the features into their production vehicles. We saw this in a very big way with their upcoming Lexus LC 500 sports car. The Lexus LC-LF concept vehicle was first unveiled at the North American International Auto Show in January 2015. One year later, Lexus unveiled the production vehicle, the LC 500 at the 2016 North American International Auto Show. Taking a car from concept to production in one year is very impressive by any measure.
Comparing the lines under the camouflaged test mule with images of the Lexus LF-FC concept shown at the North American Auto Show, the greenhouse area or windows of the vehicle are roughly the same shape. Additionally, the rocker panel is carried over from the LF-FC concept vehicle as is the overall shape of the back of the car.
The updated Lexus is likely a 2018 model and be powered by a forced induction engine and hybrid power train. We will report additional information on the upcoming LS as it becomes available.
Spy photo credits:  Autoblog.com