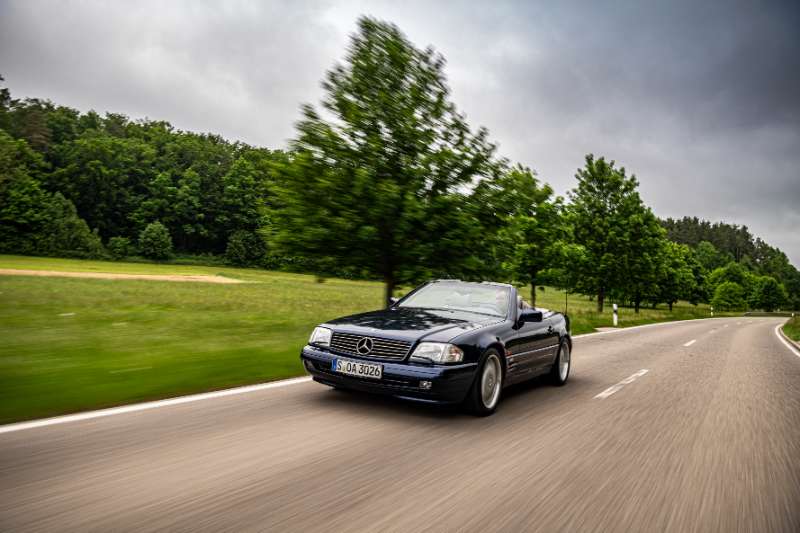 In anticipation of the next-generation Mercedes Benz SL currently in development, a number of significant SLs will be present at the 2021 Monterey Car Week
The most unique and outstanding historic cars in automotive history are shown, admired, awarded accolades, and occasionally even auctioned off for record-breaking sums at the annual Monterey Car Week on the grounds of the Pebble Beach Golf Club. Mercedes-Benz will be making an appearance with a number of significant automobiles, several of which are of Mercedes Benz SLs.
The focus of this year's exhibit is on the history of the Mercedes Benz, the brand's icon two-seat roadster. Examples of the famous two-seater that will be present at festivities include the 1952 300 SL racing sports car and the renowned 1957 300 SL Roadster, as well as a 2003 SL 55 AMG. The SL tradition continues will continue after this week with the arrival of the upcoming next-generation SL (R 232).

What is the origin of the SL sports car?
Mercedes-Benz sports cars have a long history in the United States. Before setting up overseas subsidiaries like Mercedes Benz, North America, foreign brands relied on importers. In 1953, American Max E. Hoffman was certain that a Mercedes-Benz sports automobile would be a hit on the American market. Hoffman, the brand's eastern United States importer, traveled to Untertürkheim to pitch his concept for expanding the model line-up. "In the United States, people expect Mercedes-Benz, a company with a particularly good reputation in that country, to offer under all circumstances a sports car which alone can provide a basis for the existence of the dealer organization," according to the minutes of a board meeting held on September 2, 1953. (W 198).
Hoffman was proven correct: 85 percent of the 996 300 SL Coupés made in 1954 and 1955 were shipped to the United States. Mercedes-Benz shipped more than half of its 300 SLs to North America during its entire production run. This success story was carried on in the subsequent SL model series. Many of the best-kept specimens may be found in Pebble Beach on a regular basis.
Mercedes-Benz Classic in Pebble Beach: In conjunction with the Concours d'Elegance, Mercedes-Benz Classic is displaying six automobiles from its SL historical collection.
Rudolf Caracciola, three-time European Champion of the Silver Arrow era from 1934 to 1939, finished fourth in the 1952 Mille Miglia in this Mercedes-Benz 300 SL racing sports vehicle (W 194) #5. In this 300 SL, Hermann Lang, the European Champion in 1939, finished second in the Carrera Panamericana in 1952.
Mercedes-Benz 300 SL (W 194) #11: a true one-off racing prototype created for the 1953 season.

Mercedes-Benz 300 SL Roadster (W 198), 

1957 Mercedes-Benz 280 SL "Pagoda" (W 113), 

1969 Mercedes-Benz 380 SL (R 107), 

1982 Mercedes-Benz SL 500 (R 129), special model for the United States, the "Silver Arrow Edition", 

2001 Mercedes-Benz SL 55 AMG (R 230), 

2003 Mercedes-Benz in North America: 
Mercedes-Benz Classic will not be the only presenter of valuable classics from the three Mercedes-Benz S Tourer (W 06), several private parties will also be displaying historically significant Mercedes Benz vehicles.
1927 Mercedes-Benz SS Armbruster Cabriolet (W 06), 

1927 Mercedes-Benz 680 S Saoutchik Torpedo (W 06), 

1928 Mercedes-Benz 680 S Gangloff Sport 4 (W 06), 

1929 Mercedes-Benz S Barker Tourer (W 06), 

1929 Mercedes-Benz SS Erdmann & Rossi Roadster (W 06), 

1930 Mercedes-Benz 38/250 SSK Roadster