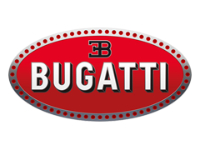 Bugatti
Country:
French
Year:
1909
Automobiles Ettore Bugatti was a French car manufacturer of high-performance automobiles, founded in 1909 in the then-German city of Molsheim, Alsace, by the Italian-born industrial designer Ettore Bugatti. The cars were known for their design beauty and their many race victories. 
The death of Ettore Bugatti in 1947 proved to be the end for the marque, and the death of his son Jean Bugatti in 1939 ensured there was not a successor to lead the factory. As a result, no more than about 8,000 cars were made. As a result, the company struggled financially and released one last model in the 1950s before being purchased for its airplane parts business in 1963.
During the war, Ettore Bugatti was sent away, initially to Milan and later to Paris, but as soon as the war was over, he returned to his factory at Molsheim. 
In October 1919, at the last minute, Bugatti could obtain a stand at the 15th Paris motor show. He exhibited three light cars, all of them closely based on their pre-war equivalents, and each fitted with the same overhead camshaft 4-cylinder 1,368cc engine with four valves per cylinder. The smallest of the 3 was the "Type 13" with its racing body and a "Type 22" and "Type 23".
Known for its beautiful cars, Bugatti also enjoyed great success in early Grand Prix motor racing. In 1929, Bugatti entered and won the first-ever Monaco Grand Prix. Bugatti also won the 24 Hours of Le Mans twice; in 1937 with Robert Benoist and 1939 with Pierre Veyron, a race won with a single vehicle and minimal resources.
Bugatti dominated racing when the Bugatti Type 10 took the top four positions in its first race. However, its most successful racing car was the 1924 Bugatti Type 35. Bugatti developed it with engineer and racing driver Jean Chassagne, who also drove it in its first-ever Grand Prix in 1924 Lyon.
Racing successes include five successive victories in the Targa Florio between 1925 through 1929. Louis Chiron held the most podiums in Bugatti cars, and the modern marque revival Bugatti Automobiles S.A.S. named the 1999 Bugatti 18/3 Chiron concept car in his honor.
On August 11, 1939, tragedy struck when Ettore's son, Jean Bugatti, died while testing a Type 57 tank-bodied race car near the Molsheim factory.  It also marked a turning point for the famed manufacturer for World War II was on the horizon.
 Following the War, the Molsheim factory was left in ruins, and the company lost control of the property. During the war, Bugatti had planned a new factory at Levallois, a northwestern suburb of Paris. After the war, Bugatti designed and intended to build a series of new cars, including the Type 73 road car and Type 73C single-seat racing car, but in all, Bugatti built only five Type 73 vehicles.
Bugatti's demise accelerated with Ettore's death on August 21, 1947, and it ceased operations in 1952.