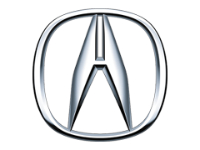 Acura
Country:
Japanese
Year:
1986
Honda's premium vehicle subsidiary, Acura, is a division of the Japanese automaker Honda. On March 27, 1986, the brand debuted in the United States and Canada, promoting luxury, performance, and high-performance automobiles. It was first launched in Hong Kong in 1991 (and lasted until 2009), Mexico in 2004, China in 2006, Russia in 2014 (and lasted until 2015), Kuwait in 2015, and Ukraine in 2016. (until 2018). Honda's plan to launch Acura in the Japanese domestic market (JDM) in 2008 was postponed owing to economic reasons and then shelved as a result of the 2007–2008 financial crisis.
Acura was the first luxury automaker in Japan.  Acura was founded at the same time as a new JDM Honda dealership sales channel, the Honda Clio, which offered luxury vehicles, joining the previously established Honda Verno and Honda Primo the following year. Acura was one of the best-selling luxury brands in the United States in its early years. Despite declining sales in the mid-to-late 1990s, the brand had a resurgence in the early 2000s as a result of radical redesigns and the introduction of new models.
The success of the company's first flagship vehicle, the Legend, prompted Toyota and Nissan to develop their own luxury brands, Lexus and Infiniti, respectively, in the late 1980s. The introduction of Honda's VTEC variable valve timing system to the North American market with the 1990 launch of the NSX, a mid-engine exotic sports vehicle, provided a reliable and practical alternative to exotic European sports cars. Acura's first use of a six-speed manual transmission, linked to a Type II engine, was in the 1993 Legend coupé. Acura released a Type R variant of its tiny Integra in the late 1990s, with a lower curb weight, firmer and lower suspension, and a high-output VTEC engine.
Acura introduced new models in the early 2000s, including the MDX, the company's first all-original SUV, and the RSX and TSX, which replaced the Integra coupé and sedan, respectively. During that decade, Type-S variants of the RSX, CL, and TL were added to the brand's range. SH-AWD, Acura's torque-vectoring all-wheel drive system, debuted with the 2005 RL flagship. The 2007 RDX crossover SUV had the first turbocharged Honda engine in North America. Acura introduced several new models in the 2010s, including the ILX, TLX, ZDX, and RLX, the latter of which included Acura's Jewel Eye LED headlights. In 2016, the second generation NSX was introduced, with a twin-turbocharged mid-engine, a nine-speed dual-clutch transmission, and Sport Hybrid SH-AWD.